NEENAH, WI – So you've heard of "Mission Myeloma" or "Miles for Myeloma". What you may not know is that the team behind this non-profit works all year long, not just in October, to help multiple myeloma patients right here in Wisconsin. Alright, so "patient" is very clinical. We help neighbors, co-workers, families, friends because we know this cancer journey all too well even if we don't KNOW them personally. Multiple myeloma is a blood cancer that has no cure yet. With your help, we can support those currently in treatment and offer support to the professionals working toward a cure!
There are five ways you can help us reach more and do more. Yes, we're made up of a board of directors. A big, fancy board with six awesome members who all, wait for it, VOLUNTEER their time and talents. That's right. Every dollar raised from fundraisers and donations goes toward our top three goals:
Care Packages: We currently have a network of hospitals that we work with to help us identify multiple myeloma patients currently in treatment that could use support. They are given our "cancer swag bag" in the hopes that their next chemo appointment or treatment will be a little more comfortable.
Financial Grants: While multiple myeloma is a rare cancer, it doesn't mean that when a person finds out they have it that it can be any less devastating. There are new challenges, sudden lifestyle changes, and a wide range of bills that can make anyone not want to open their mailboxes. Our grants help provide a little relief and that in and of itself can be a huge comfort. Money may not buy happiness but it can buy gas to get to the cancer center.
Research for a cure!: Yup, there is currently no cure for multiple myeloma. While treatment options have come a long way, there still is no cure. Let me say that again for the cheap seats, NO CURE FOR MULTIPLE MYELOMA! We make annual contributions to research development in the hopes that one day we can check "No. 3" off our list.
So how can you help us? Here are some of the top ways you can help our non-profit and thereby help your fellow Wisconsinites who are fighting multiple myeloma.
Top 5 Ways you can help:
Make sure you're a FAN: Our Facebook and Instagram communities are growing!
Share, Share, SHARE: We love hearing from you and want to share your story! We're always on the lookout for the "Why" stories. What is it that pushes you to help multiple myeloma patients? Contact us today to learn how easy it is to inspire others.
Shop Amazon: Did you know you can shop on Amazon AND help Mission Myeloma? That's right! When you add Amazon Smile to your account and have Mission Myeloma directly benefit.
Donate Blood: Many patients going through treatment can often need some type of blood product. Please consider donating blood as it's a resource that can't be replicated!
Join us in October: Miles for Myeloma Run/Walk happens every year, the first Saturday in October! This event is Mission Myeloma's signature fundraising event and provides the bulk of our funds for the year to help multiple myeloma patients here in Wisconsin. Plan to start a team, join a team or participate individually. It's going to be fun!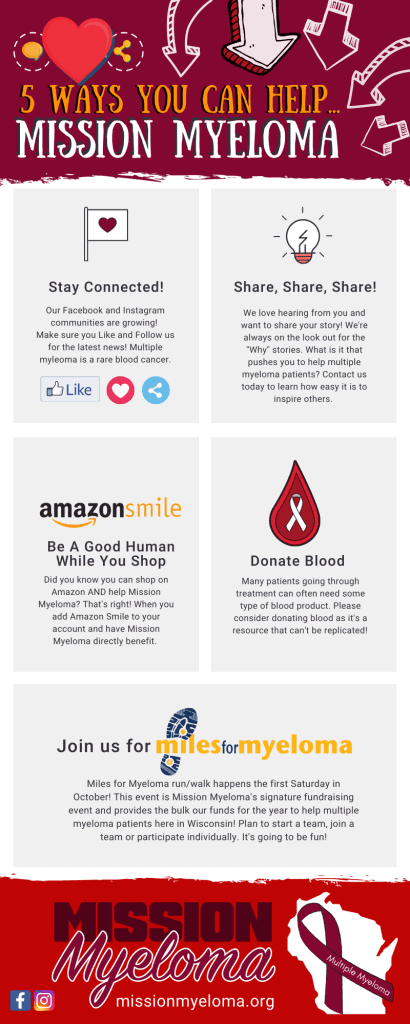 Make sure you Like and Follow us for the latest news! Multiple myeloma is a rare blood cancer.